BLOGS LIKE THIS ARE CONSIDERED THE NEW RECORD STORE, MAGAZINE,DVD,AND EVENTUALLY THE LABEL
Thursday, June 28, 2012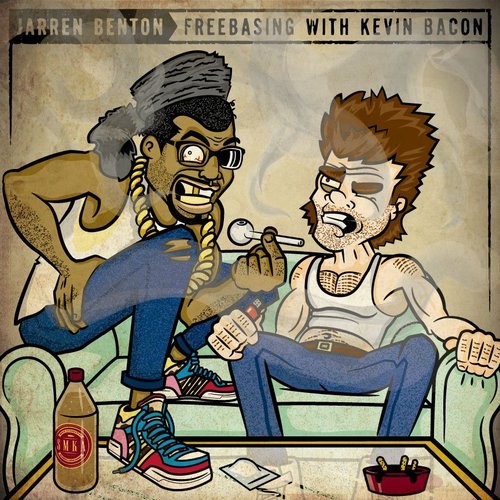 So here it is people @JerrenBenton x
Free Basein With Kevin Bacon
EP is here. Prolly one of the best names and album artwork ever!16 tracks of sick beats and dope lyrics. He copped a couple big name features such as @JonConnorMusic x @PhillyFreezer x @2Chainz! My 2 favorite tracks are
Free Basein
x
Half Ounce Quater Pound
. Also Check out the video for
Billion Bucks
and mixtape streaming......
Wednesday, June 27, 2012
Parisian publication WAD presents their
A$APARI$
editorial featuring Harlem emcee A$AP Rocky as part of their "Cocktail Issue." Shot by Julot Bandit and styled by Alex Sossah, the images see the rapper in the latest pieces from the likes of Givenchy, Pigalle, Norse Projects, Lacoste, Raf Simons, Pierre Hardy and Comme Des Fuckdown from SSUR. WAD #53 is currently on newsstands worldwide. Check out the pics below...........
Man one @JheneAiko is like the baddest chick on the planet next to @KarenCivil but then you get Philly's new comer @RyshonJones spitting some bars to her in an open letter. Make sure you pick up
LifeInReverse
Check it out below...........
Oooooh snap G.O.O.D Music is back to cause some more terror over the internet. Pusha-T x Ye link up again for a another smash hit called
New God Flow
. I already know its gonna be SICK AF!!!...See artwork below...........
Probably one of the best things to happen to the new era of unsigned Hip-Hop is that @TheKidCalez x @JuMalone get together for a dope ass track together called
Kid Enemy.
We need more of this in the new era of Hip-Hop. Check out the track below.......
Via:
2DBZ
Self Made Vol. 2
is out now. Check out the video after the jump...........
Very Dope!!! Lana channels Jackie-O and Rocky Channels JFK in this new video off Ms. Del Rey's
Born To Die
called
National Anthem
. Check out the video below.......
So Detroit's own @IamMahd gives us an
EXCLUSIVE
before the drop date!!! So without further a do Alius Magazine Presents: @IamMahd x
Lotus
. With the backdrop beat of the smash hit
Otis
From Ye x Jay Mahd gives us a dope a track x video and I must say I'm very impressed with them both! Download link and video after the jump.......
IDK if Rocky is doing this for publicity or just being a dick cuz this is now the second time hes gotten on someones bad side. So out of no where @AsvpxRocky Sub-tweeted @SGhostPurp on some random shit and then Sub-tweets @ClammyClams after that as if thats who he wants producing his music. I think its the beginning of the end of a dope tag team in new era Hip-Hop. Checkout the tweets below.......
EVERYBODY KNOW THE SPACE MONKEY ANT GOT SHIT ON THE PRETTY MOTHA FUCKKA ,LMAOO, IF IT WAZZENT FOR UR MOMS I WUD EXPOSE U.
#JELOUSLILNIGGAZ
AYE CLAMS NIGGA , TELL ME WHERE DAT BASE AT!!!